Whether you make a one-time donation or sponsor an animal, your donation provides much needed aid to the sanctuary for food, shelter, and veterinary care.  Your generosity is very much appreciated.
Darlynn's Darlins, Inc., welcomes sanctuary sponsors.  If you choose to sponsor an animal, your credit card or bank account will be charged each month for the amount that you designate.
Darlynn's Darlins, Inc., is a 501(c)(3) tax exempt organization.  Your contributions are tax deductible to the extent allowed by law.
If you would like to make a tax deductible donation online, or use a credit card to set up a recurring monthly sponsorship in any amount, go to PayPal.
If you would prefer to make your tax deductible donation by check or money order, make it payable to: Darlynn's Darlins Inc. and mail to:  9830 Evans Road, Polk City, FL 33868-6916
Here are some ways you can do the things you do anyway (search the Internet, make purchases online) that will cost you nothing and will result in contributions to our organization:
You can shop at AmazonSmile, at NO additional charge, and they will donate 5% of the purchase price to the non profit you designate which we hope will be ours. Remember, it doesn't cost you anything extra and they don't charge back to the non profit any fee either.  For those who shop Amazon online,  it's  a great way  to help us raise  always  needed funds for the ongoing care of the animals and upkeep of the facility.
Use Goodsearch.com as your search engine and they will send us a donation.  Verify Darlynns Darlins as the non-profit you support. They do NOT ask for your contact information.  Easy.
Need to remove a car, truck, Jet Ski or other vehicles?  Contact DONATIONLINE.COM to remove your vehicle for FREE and they will send us a donation.
Shop on line and help support saving animals at NO additional cost to you.  
 
Shop till you drop, and we appreciate your help.
Click here:  www.iGive.com
You Shop, They Win! Help your favorite cause (us
) for free.
A penny a search and a portion of each purchase will be donated to your favorite cause. How often do you search or shop online? Start helping today.
SELECT your favorite cause. Register with iGive and SHOP at brand name online stores through the iGive Mall. A portion of each purchase is donated to your cause. SAVE money with exclusive coupons/free shipping deals. Plus, when you shop within 45 days of registering we'll donate an extra $5 to your cause!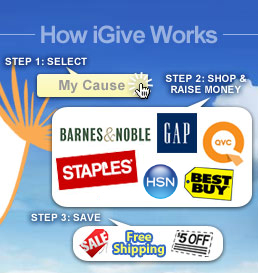 THANKS FOR YOUR HELP AND SUPPORT !!